ADS Region 2 Summer Meeting 2024
"Es-Scape to Ohio!"
Wooster, Ohio…
Is the home of nature preserves and bird sanctuaries plus Kingwood Gardens (included in the tour). Area attractions include antiquing, local wineries, Mansfield Reformatory Prison (where "The Shawshank Redemption" was filmed) and you can find many outstanding Ohio hybridizers and gardens on the way.
Mark Your Calendars!
Our registration includes five Tour Gardens with buses on Saturday and participation in all events held on Friday, Saturday and on Sunday morning, at the Best Western Plus Wooster Hotel & Conference Center, at 243 E Liberty St., Wooster, OH 44691, breakfast included with room. Our tour includes a catered lunch at the Kingwood Gardens where our Englerth seedling bed is located. Two buffet evening meals on Friday and Saturday are also included. Lodging and other expenses are not included.
Region 2 – 2024 Summer Meeting
"Es-Scape to Ohio"
July 19-21, Wooster, Ohio
Agenda
Friday July 19
(9:00 a.m. – 1:00 p.m.) Open Gardens and Area Attractions
1:00 – 5:00 p.m. Registration
1:00 – 3:00 p.m. Garden Judges Workshop I
1:00 – 5:30 p.m. Plant Sale Room Open
2:00 p.m. Silent Auction Opens
3:00 – 5:00 p.m. Hybridizers' Forum
4:00 – 5:00 p.m. Youth Meeting
5:00 – 5:30 p.m. Social Hour with cash bar, open for the evening
6:00 – 7:00 p.m. Invocation and Dinner
7:00 p.m. Live Auction
Saturday, July 20
6:30 a.m. Breakfast at the Best Western Hotel
7:30 – 8 a.m. Load Garden Tour buses and Garden Judges' Workshop II bus
4:30 p.m. Buses Return
4:30 – 6:30 p.m. Plant Sale Room Open
6:00 p.m. Silent Auction closes
5:00 – 6:00 p.m. Social Hour with cash bar, open for the evening
6:00 –6:45 p.m. Invocation and Dinner
6:45 – 7:15 p.m. Region 2 Business Meeting, including introduction of Board Members, Awards and Honors Presentation to Regional Award Winners of Seedling and Exhibition Awards, Silent Auction winners announced.
Sunday July 21
7:00 a.m. Farewell Breakfast by the hotel
Open Garden and Attractions – list to be announced.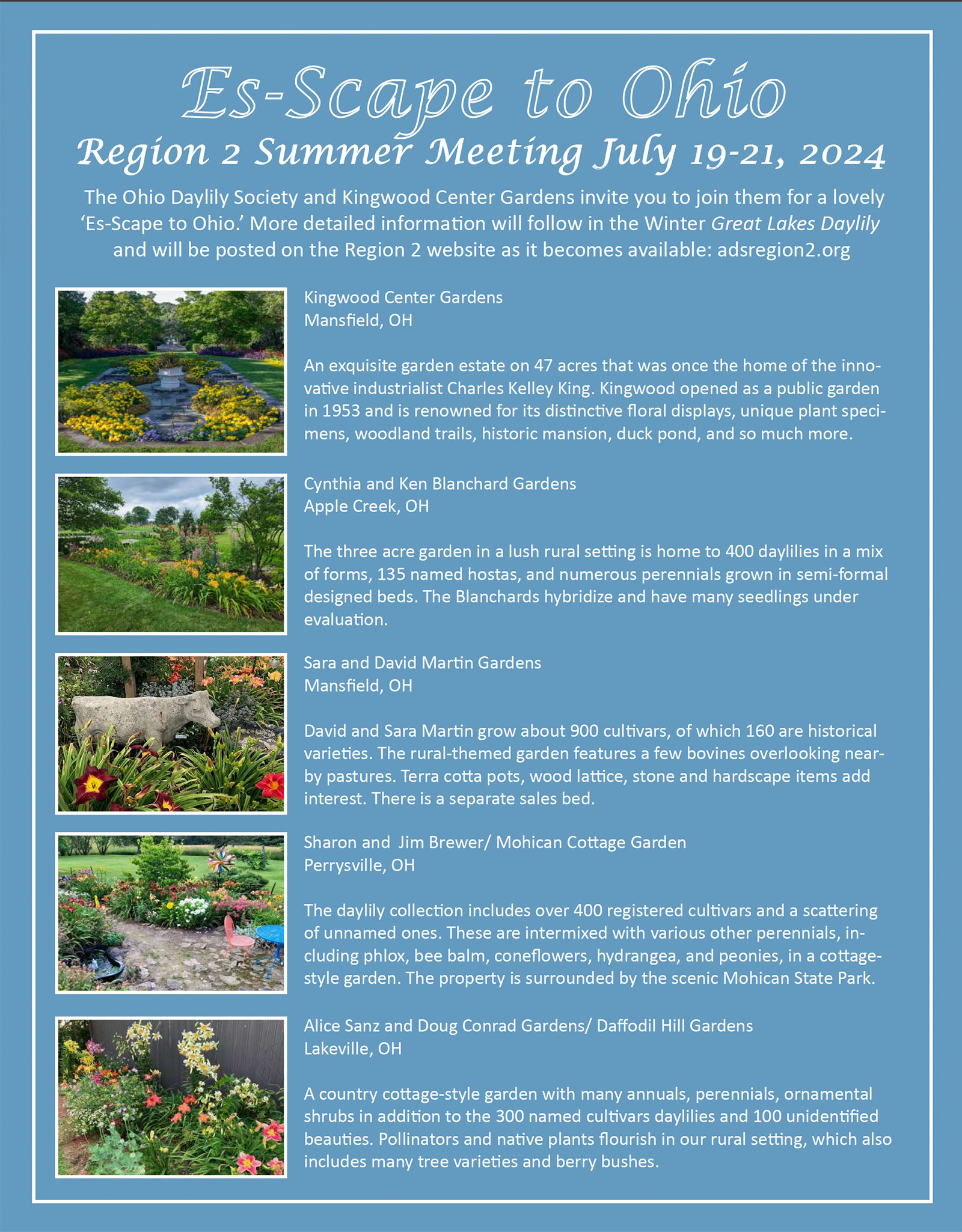 Alternate Registration: For those who prefer to mail a check and registration form, a .pdf file of the Registration Form may be downloaded HERE.
Alternate Payment: Mail checks to: Patti Byerley, Registrar, 3680 E. Old Goshen Rd SE, Laconia, IN 47135-9242
Checks payable to: Ohio Daylily Society or, to pay by PayPal/Credit Card, please contact Patti or use the payment option on the website.
Home: 812-737-2469 Cell: 502-724-2765 Email: hutchnbunch@aol.com
Cancellation Policy: Cancellations received by June 15 will receive a full refund. Fee for registration after June 19th $198.00/person. Late registration based on available openings and may be wait listed pending a cancellation.
Cancellations received after June 15 will receive a 50% refund.
Hotel Information: Best Western Plus Wooster Hotel & Conference Center, at 243 E Liberty St, Wooster, OH 44691 Phone: 330-264-7750
Our hotel is holding rooms with our group discount until June 19 for this event. Please mention the "American Hemerocallis Society" or "American Daylily Society" to get the discounted rate of $ 101.99 + tax. This rate is available starting Thursday, July 18 -21st. Complimentary breakfast is included. All attendees must book their own room. Early reservations are highly recommended. Check out time for the room is 11 a.m. at the end of your booked dates. Phone: 330-264-7750
Reservations link: https://www.bestwestern.com/en_US/book/hotel-rooms.36082.html?groupId=R13MF4A2